PEACE: 2013
My hope for you in 2013 is that you savor the peace that is beyond understanding. Don't even try to reason it or  understand it; allow it, welcome it, trust it, savor it.
Adapt the pace of nature. Her pace is patience.
Emerson
"Sunset Gift," collage (sold)
Often brooding azure skies reluctantly relinquish their colors to dominant orange hues overtaking the realm. A dynamic argument of colors on the horizon gives way to restful evening darkness. Prayers of invocation summon peace.
Clouds come floating into my life, no longer to carry rain or usher storm, but to add color to my sky.
Rabindranath Tagore
"Matthew's Canyon," watermedia/collage (sold)
Solitude is the place of purification.
Martin Buber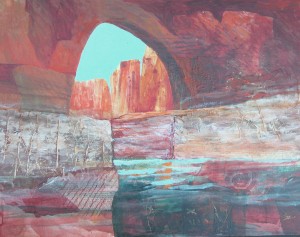 "La Gorce Arch," watermedia/collage (sold)
Wait for the wisest of all counselors, Time.
Pericles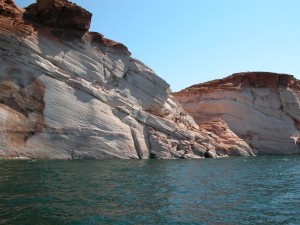 Walk in the Light of Peace and you will reflect that Light to a watching world.
Sarah Young (paraphrase)