A dear friend of mine, Judith, called last week asking to bring an artist to visit my studio. She brought Mike Webber an oil painter from Wales, his wife Sue who is also an artist, and his daughter-in-law, Cali, who has recently moved with her husband to Carlsbad where I live.
In recent years when I have had calls like this I have said "sure" and arranged for a time to visit. In the past I bustled around picking up, straightening up, even cleaning up my studio. But I have lost all false pride about being orderly and allowed the truth of my cluttered, messy ways of creating be known. This new way of welcoming others into my studio is more honest, saves time, and doesn't seem to make a bad impression. We had a delightful visit. Sue had some of Mike's images on her iPhone so I was able to see what he creates. Mike and I mainly talked about where we get inspiration for our works. You can see some of his works on his website: http://www.mikewebberart.co.uk/Mike_Webber_Art/home.html
Both of us are inspired by the landscape around us, its changing nature. Much of my work is also inspired by my personal spiritual life and my connections with other people including artists. Mike lives right on the waterfront and his habitat has lots of rain. The beautiful rocks in his environment have a similarity in their solid, dense stability, to the cliffs that so inspire me in my desert. His and mine are  quite different in color and shape.
As my guests departed, Judith let me know they would be visiting the studio of Wren Stroud, another artist in the evening and she invited me to join them, which I was most happy to do. What fun, what a delightful contrast. Wren's studio is quite close to the waters of the Pecos River which runs through our town. Her studio is spacious and clean and beautiful. When we talked of the contrast between her studio and mine Judith commented on our personalities and working styles. Apparently even when Wren works, her tools and media remain orderly and minimal. I can't remember discussion of inspirations in her studio although I wasn't always involved in the communications between Wren and Mike. Much of Wren's inspiration, no doubt, comes from people and their personalities because she has sculpted several pieces of public art with figures and a bit of their environments. She has also painted figures. Her current involvement has been with a large painting inspired by the river. It has a relief sculptural quality in that a portion of the painting, the representation of the surface of the water, is superimposed and raised several inches above the portion which represents the deeper, or underwater portion of the river containing several rainbow trout.

The composite image is assembled into a grid, a fascinating look at the expectation of success when the risk of powerful chance is is taken.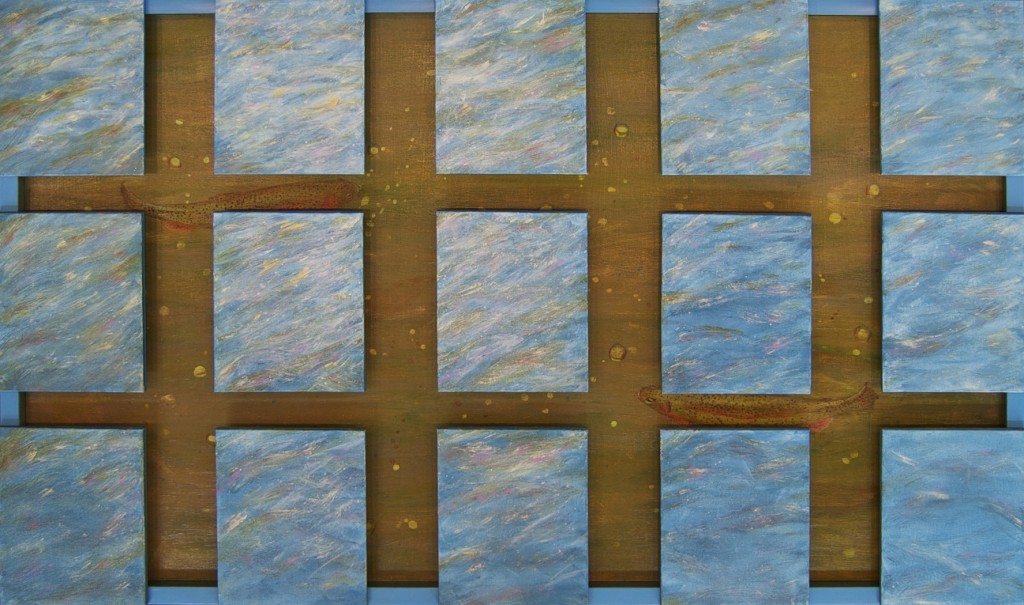 The full title of this composition is a quote from the ancient Roman poet, Ovid:
"Chance is always powerful. Let your hook be always cast; in the pool where you least expect it, there will be a fish."
An abundance of creative energy and enthusiasm was generated from these encounters with Wren and Mike. Perhaps it could even be called "inspiration" for new works. I'm thinking there's a source of inspiration I seldom consider: conversations/encounters/exchanges with other artists. I returned to my studio with energized readiness to create. Thank you Judith for these precious connections!
Helen and Judith: