Several days ago I spoke with an artist visiting The Artist Gallery in Carlsbad, NM where I live. He talked about his works in acrylics, his techniques, and his imagery. He referred to himself as a "streaking" artist, which he described as streaking from one thing to another. He enjoys trying new things and his interests are widespread, in subject matter and in technique. He was quite surprised when I told him, I seem to be more of a "pedantic" artist, dwelling in one series of images for long periods of time, and although I use a wide variety of techniques there is definitely an "HGwinn" quality about them. When I told him my "Envelope Series" contains well over a hundred images, he was stunned. I wonder how he would have responded had I told him about Mark Gould  who now has over 900 images in his series entitled "My Neighbor's House."
"MY NEIGHBOR'S HOUSE 808"
acrylic painting on panel,24×30 inches
Mark Gould, artist
                       For me it is rare (but it does occur) that I complete an art piece and  feel it is  a full expression. When I finish a painting I commonly feel both content with the completion and a question in my mind about parts of it. Could I have done that shape better? added or reduced the amount of texture? Have I brought a wholeness into the design? Are the compositional details coordinated? Is the content, the imagery, compelling? Is there more to express?
In the late 1980's when my daughter went off to college, we communicated mostly by letters…..now called "snail mail." It was in the days when there was no email, cell phones were barely being heard of and long-distance phone calls were costly. It wasn't long before I was aware that we were communicating more clearly through the written word than we had during her adolescent high-school days. I was loving to find an envelope in my mailbox with her return address on it. Soon envelopes and letters began to turn into imagery showing up in my mixed media paintings. Today the "Envelope Series" has nearly 200 pieces in it and has morphed into the "Cliff Gifts Series." Tiny packets (envelopes of a sort) are packed and secured into the painted/collaged cliffs of this series.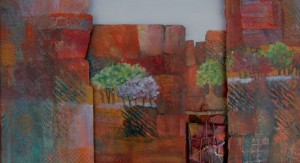 CLIFF GIFTS: AMBER CANYON
mixed media painting, 20X13X1.5 inches
Helen Gwinn, artist
The Cliff Gifts Series currently contains more than a hundred pieces. While it seems to be waning in my focus, another series, "The Nests," is developing. These images of freedom, of nurture and refuge are important elements for me to express. Although birds and nests have been important symbols throughout my days of painting, they are now dominant and demanding my attention.

  THE NESTS: KEEPING WATCH
mixed media on panel, 16X12X2 inches
Helen Gwinn, artist