THE CLIFF GIFTS SERIES: SHELF CANYON
Startled and unsettled barely describe the prospect of being without one of my precious colors, "cobalt teal." What New Mexico Artist hasn't relished the azure blue skies here that so inspire us? We use that exquisite color, not only to express the sky color but also for thousands of other ideas and symbolic images that are intrinsically a part of our identity.  The tints and shades of "cobalt teal" have held a vital place on my palette.  Not long ago, one of my students even called it "Helen's Turquoise."
Recently I was in one of my favorite art supply stores and purchased a jar of "Cobalt Teal" of GOLDEN ARTIST COLORS paint.  I was startled to learn that the color is being discontinued in all of their lines of paint!
A few years ago, GOLDEN ARTIST COLORS had to discontinue another of my vital colors, "Quinacridone Gold." It was replaced by "Quinacridone Nickel Azo Gold." The new color is not the same, it is a near miss that I have learned to use. Though I wasn't sure I would, I have indeed survived, thrived even. I suppose I will again survive this drastic change, but I am disturbed and unsettled that now I have to use "Teal" or some other substitute color rather than my beloved "Cobalt Teal."
I am reminded that Carole Barnes once told her students to temporarily eliminate a color when they become too dependent. It can be a challenge to stretch ones creativity. I ask you, what would Carole do without RED? and what am I going to do without "cobalt teal?
GOLDEN Cobalt Teal Replaced with Teal
| | |
| --- | --- |
| | |
| Cobalt Teal | Teal |
Dear Customers of GOLDEN Cobalt Teal (all product lines):
Due to the pigment being discontinued by the manufacturer, Golden Artist Colors, Inc. has found it necessary to discontinue the existing Cobalt Teal across all color lines.
We recognize that this is a very valuable color for many artists and for that reason we worked diligently to find an alternate source of pigment, but were unable to find one that would give us the clean color artists love. As a result, we felt it was important to retain and replicate the color space as closely as possible. After several trials, we landed on a blend that will be called Teal. This new color Teal is a very close match to the existing Cobalt Teal in the masstone and is a bit stronger as a tint.
While losing the original Cobalt Teal will be disappointing for many, we feel that the new Teal will serve most artists quite well and as a side benefit, it will be a less expensive Series 3 color. The new Teal will start being available in art stores sometime in February or March.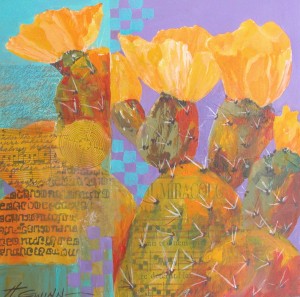 MILAGRO: PRICKLY PEAR