The dedicated painters in the Art For Soul Critique Group in Albuquerque meet monthly to share their works-in-progress, and discuss ways to make them better. They have a very special camaraderie. As I critiqued with them they wanted to hear all my comments about the works and they had no qualms about letting the rest of the group hear each critique.  They create some outstanding varied work don't they? Half of the painters have focused on watercolors, two of them wanted to explore acrylics while I was with them. One painter is so ready to take the watercolor medium and her expressions to the edge! She is somewhat in transition already for she has been pushing it for some time. It reminds me of a scenario which reports that the creative person was called to the edge, "No, no, I will fall." Again and again she was beckoned to the edge, "No, no, I will fall/fail." Finally she let loose and came to the edge, she was pushed……… and she flew! (Sorry I cannot find the exact expression of that scenario, or to whom it belongs, but it is a powerful thing to consider.) May we all move willingly to the edge and learn that we will soar!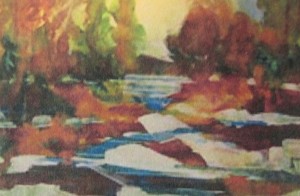 Judi Foster

Sue Ann Mika    www.NMArtists.com


Mabel  Culpepper
My apologies to Sandra Quinlan, Susan Birdsong and Lynda Burch  www.lyndaburch.com   You are courageous and determined dedicated painters.  Although I received images, or captured them off websites, I was unable to make them arrive here. I will be happy to insert them if they can be sent to me in jpg format.
When I teach or work with other artists, I also learn. This group taught me much. I hope to paint with them again. They are an inspiration!
In April of 2012, I will teach INNOVATIVE WATERMEDIA WITH COLLAGE, a 3 day workshop. It will be part of the Masterworks event in Albuquerque. In that class I will more thoroughly demonstrate my process of layering, collaging, embellishing and pushing my images to the "edge." Some of them actuually get "airborne by the Spirit and fly." Always, the process is a charge; it doesn't fail to enrich my creative spirit.