My mind is a busy place; careening, searching, considering, grasping, hoping. Much gets collected, sorted, held, dismissed, treasured. When my mind comes to center, Truth, accompanied by quietness, confidence resides. Recently, with more time in the studio, and more time to ponder, I'm recognizing a freshness. Somehow images of nests and eggs and sometimes birds have moved continually to the forefront and demanded my ongoing attention. In my studio bathroom, hangs a beautiful calligraphic image with something of a "nest/cradle symbol" superimposed:
"All Things Are Symbolic"   by Bob Phillips

Nests are safe refuges; soft gentle interiors cradle newness. Spiny, thick exteriors extend protection, and threaten intruders. My eyes have opened in search of nests to undergird my hopes of expressing what is happening with me.  Taking note in backyards, and in my travels through the desert,I have encountered exquisite nests: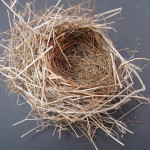 "There's absolutely nothing that cannot be inspiration for creating art."…………Dorothy Lorentzen
There's no lack of inspiration! What I want to express visually may not compress into words……..something along the lines of RENEWAL, NEWNESS, FRESH GRACE, HOPE ANEW……. Even when words won't do, it helps me to try them out. They clarify direction for me.
"The Artist must train not only his eye, but also his soul"
Wassily Kandinsky
I've posted a few of my new Nest Series images on my website; the Paintings page.