It's been a long-time dream, simmering in my consciousness……ooohhh…..to visit the Chicago Art Institute. I've visited many world class museums, but somehow Chicago Art Institute remained out of reach. I had landed a number of times at Chicago O'Hare to change course directions, and longed to go into Chicago, but it had never worked out until this year.
In recent years, my daughter Jeni was my ace assistant at the Weems International Artfest. That time together, albeit loaded with work and distractions, was our "girls' weekend." A couple of years ago when I decided that Artfest would get deleted from my career, we vowed to keep our "girls' weekend" in other venues. Last year our schedules kept that from happening so this year we splurged on a week in Chicago, a memorable splurge.

                                               Edouard Manet: "Woman Reading"
Two days at the Chicago Art Institute were boggling, inspiring, and exhausting. We saw much of the permanent collections, and took in the special exhibit "Impressionism and Fashion," a huge exhibit that had been gathered from collections far and wide.  Manet, Monet, Degas and every other important name in impressionism: they were there! The emphasis was on the clothing worn by the models in impressionistic paintings. Many of the actual garments or similar ones from that era were exhibited near the paintings. A myriad of hats, gloves, bags, and shoes were arranged for viewing. Paintings I had only seen in books simply took my breath away as I encountered them in person. We spent part of both days seeing that show, falling in love with textures and brush strokes; it was just too much to take in with one visit. Indeed we could have spent additional time there, but Oak Park and Frank Lloyd Wright were calling.
The home Frank Lloyd Wright built for his family is in the Oak Park area among a variety of other homes he designed and not far from his famous Unity Temple commissioned by the Unity Universalist Church. Attached to his home is the studio where he worked with draftsmen, budding architects, and artists and met with clients. Every carefully planned detail contributed to the joy of family life or the commercial affair of architect and client. In downtown Chicago we also toured an office building, The Rookery, so Wright, so decked out with characteristic art glass, heavy solid masonry, and ease of access.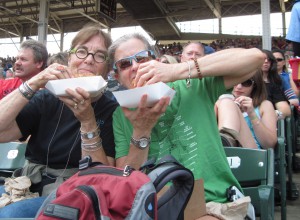 Hotdogs at Wrigley
                 And Wrigley Field was calling also. What an adventure, from riding the noisy electric train, totally packed with rabid Cubs fans, to classic Chicago hot dogs, to homeruns and a big win for the Cubs over the Brewers….it was a day like no other. Honestly I was being a good sport, I thought, to go since I'm not much of a baseball fan. That afternoon at the historic Wrigley ranks right up at the top with our other escapades……like eating at the Purple Pig, restaurant of the famous chef Jimmy Bannos. Jeni ordered "pigs ear" that day for her antipasti (which I thought tasted like high-class pork rinds and looked a little like tiny twisted french fries) accompanied by extraordinarily delicious octopus enhanced with tasty relish.  I had poached Tuna and a quail dish that had a stuffing with pomegranate. We polished it shiny with ice cream with salted caramel topping…whew!
There were visits to the Tiffany Dome inside Macy's, a recording session of NPR's news quiz show "Wait Wait Don't Tell Me," eating Chicago's deep dish pizza at Giordano's, visiting the Magnificent Mile, Navy Pier, and the Smith Museum of Stained Glass.


Melinnium Park was an exquisite connection between our hotel and the Chicago Art Institute. On several days we strolled through there taking in the haunting "Agora" sculptures by Magdalena Abakanowicz  and the playful clay shapes and figures of Jun Kaneko.
                                            "AGORA" by Magdalena Abakanowicz
Both the reflecting pool and "The Cloud" attracted many families inviting them into crazy watery  antics and playful distorted reflections. It was a delightful interruption to the big city bustle.

                                  Jeni at the "Cloud," popularly known as "The Bean"
We polished off our Chicago whirl with an architectural tour by boat along the Chicago River and a spin around Lake Michigan.  Such fun, my inspiration tank is on "full" and my time with daughter Jeni is an unspeakable treasure in my spirit, never to dim or be erased.