Clay is a new medium of interest. Gwinn is experimenting with handbuilding at the co-op studio which operates under the umbrella of Carlsbad Area Art Association. Slowly she is learning about characteristics of clay, but mostly she is playing and attempting to express images of interest to her. Feel free to contact the artist about any of the work : hgwinn@zianet.com
THE ALTAR SERIES
(embellished clay)
The clay portion of these pieces is approximately 5X5X1.5 inches. "Intercessions" is approximately 10X5X1.5 inches. Some of them are glazed, others are painted. The embellishments are varied, including twigs, string, antique keys, beads, papers, feathers etc. They are designed to be hung on the wall.

REFUGE sold

MISSIVES sold

LISTENING sold
INTERCESSIONS sold
OFFERING sold
EARTH ANGELS: A SIDE TRIP
(painted and embellished clay)
BUNNY ANGELS:
THE TABLET SERIES: EMAIL
(glazed stoneware clay with embellishments) sold
EARTH ANGEL
painted, embellished clay (sold)


THE ALTARS SERIES: OFFERINGS
(painted stoneware clay with embellishments, approx 10X4X1.5 inches)sold
THE ALTARS SERIES: SEEMS TO TARRY
(stoneware clay with embellishments, 10X4X1/5 inches) (sold)

WINGS OF THE WIND (stoneware clay, installation is approximately 8′X4′)
"Wings of The Wind" detail shots
These are a selection of EARTH ANGELS I recently exhibited with the CAAA Co-Op Pottery Studio group.
EARTH ANGEL WITH BASKET (painted and embellished earthenware clay, approximately 18 inches tall) (sold)
EARTH ANGEL WITH PACKET earthenware clay, smoked and embellished (approx 18 inches)sold
EARTH ANGEL (earthenware clay, smoked and embellished: clay portion 17 inches) (sold)
EARTH ANGEL WITH THREE BIRDS
(painted and embellished earthenware clay, approximately 18 inches) sold
ALTAR SERIES: LET THIS BE WRITTEN (earthenware clay, smoked and embellished, approximately 10X4X2 inches) (sold)
ALTAR SERIES: KNOW PEACE
clay with embellishments (actual clay portion approximately 5X5X2 inches) sold

ALTAR SERIES: FORMED FOR FROLIC earthenware clay with embellishments 15X8X2 inches (actual clay portion 5X5X2) (sold)
ALTAR SERIES: PETITIONS earthenware clay with embellishments 7X5X1.5 inches  (sold)
EARTH ANGEL 10 (sold)
EARTH ANGEL 8 (detail, sold)
EARTH ANGEL 2 (sold)
EARTH ANGEL 4 (detail, sold)
K's Word Angel (sold)
The Altars: Confession Bisqued, smoked clay and embellished with text (graphite), bamboo sticks, twine,  and acrylic paints. 12X5X1.5 inches                                   (sold)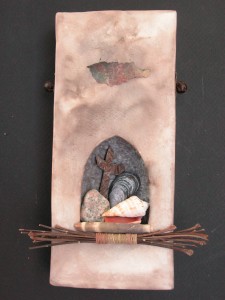 The Altars: Sea Shrine Bisqued, smoke fired clay with sea shells, pecan twigs, twine, beads, and rusted metal. 12X5X1.5 inches (sold)
Clay Mail: Raven Talk Hand painted clay with embellishments Approximately 6X4 inches (sold)
Clay Mail: Mogollon Mail Pouch
Handpainted clay with embellishments Approximately 6X4 inches (sold)  
Clay Mail: New Beginnings Handpainted clay with embellishments Approximately 4″ X 6″ (sold)